My mind is spinning, the wheels are turning, I am so INSPIRED!
That is what Bloggy Boot Camp did for me.
Back when I hit the
Jackpot
, and won my ticket, I was thinking about the amazing connections I would make.  The successful women I would hear speak.  The friendships that would form.  But, I never realized simply how inspired I would be.  How much knowledge I would gain.  How much more confidant I would be.  Bloggy Boot Camp was all I had hoped for…and So Much More!!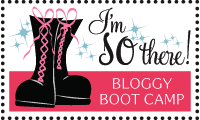 The Top Ten Tips I learned from Bloggy Boot Camp Las Vegas:
Treat your blog like a business.
Work Smarter, Not Harder.
Never second guess a fun idea.
Know your worth.
Professionalism is a must…everywhere and always.
The right tech gadgets and apps can make your life easier…try them.
Be smart about your time working, set office hours, and enjoy your family.
Surround yourself with tribe of supporters…it is essential to success.
Never bet against yourself.
And probably the best and most important one…
10. "Don't Try To Win Over The Haters…You're Not The Jackass Whisperer"
~Scott Stratten
Truly, I feel blessed that I was able to go to Bloggy Boot Camp.  I have a new level of success to aspire to thanks to all the incredible women I connected with.
As for the Hosts and Speakers of the event, Thank You to: